Panty boys, it is time for you to step up to the plate, your golden opportunity to show off your wears.  Your goodies, online for everyone to see how sexy you are in your panties for Ms. Mandy.  I have a special place to display you sissy panty boys!
I do love a slut that wears panties for me, and I love sissy boys in
panties
, and real men in panties as well.  I think it is a turn on to make a guy wear your panties.  Especially if I take my panties off and put them on you!  Now is the time for you to take your camera and send me your panty picture. I will not post it if anything is showing, this is about you in panties, not your cock.  As I said, I have sissy's, cuckold', real men, everyone is going for the panty craze.  There are too many reasons why for me to list them all here. If you would like to be on my panty page, then you need to submit your picture to me, so that I can add it to my Wall of Shame.  I do love that page. My sexy friends, dressing in panties just for Ms. Mandy.  I like to see panty boys on webcam.  I like to give panty boys
guided masturbation phone sex
on webcam.  I have them get them out and put them on, and then they stroke it, jerk off, and sometimes I even let them cum in their panties.  Sometimes stroker boys, purge their collection. Before you do this guys, NEXT TIME, send me a picture of the pile of stuff you are tossing.  I think a Purge Gallery, might be fun.  So when you regret throwing out all your expensive toys and lingerie, you can come back to my site and pine over what is left online.  All the fun you had in that stuff, and you will regret throwing it out.
My newest addition to the wall of shame will be my slave in SD.  I own and control him. I have to say he has a huge collection of toys and goodies, I can not really see him ever throwing his collection out.  I would be very sad if he did, maybe I can get him to take some pictures of some of his items for you all to see what you should aspire to. Panty boy phone sex – guided masturbation, put your panties on – call Ms. Mandy for masturbation instructions wear your panties  be put on the wall of shame,
Let me post his new panty picture here, but you can visit my Wall of Shame, to see all the panty boys, as well, He will be posted on there as well.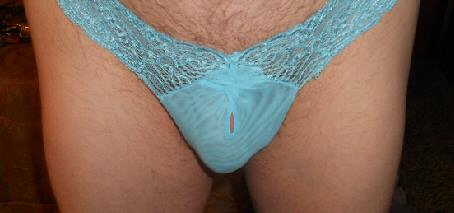 Pretty sexy huh?  I love the panties he chose for this occasion!
I like to talk to cuckies, cuckys and cuckolds, cuckold husbands who need to have me teach them a lesson and put them in panties for display.  You can have a huge penis, like Slave in SD has, or a tiny cock like teenie weenie tony, and still wear panties for Ms. Mandy.  I do SPH, LDH, and bi curious fantasy phone sex.  I like to talk about all sorts of fetishes.  I love to guide your masturbation in panties.
I am happy to give you guided masturbation information, masturbation techniques, and jerk of instructions, I can also have you tell me your secrets and weave it into our session. I am pro at making MY cock cum.  I will take control of MY cock, and you will be more then satisfied at the result. I will have you addicted to Ms. Mandy!
My voice will put you over the top!
Call me for some mind blowing fun!
Ms. Mandy for guided masturbation phone sex, kinky fetishes, cuckold phone sex, tiny cock humiliation, and much more at  1-877-732-6360