Sissy mimi did not stroke till since our last session, orgasm denial and control is a
good thing, especially during a feminization phone sex session.  She called me wearing black panties with white polka dots, and red lipstick, she most definitely is a cock sucking sissy.   Before long I had sissy mimi sucking a dildo for me to show me what a cock sucking slut she
is. I had her prepare with some ice cubes, and she was sliding ice cubes up her pussy. Told me that it's cold.   I had my strap on, on and ordered her to " Suck on a strap on, be a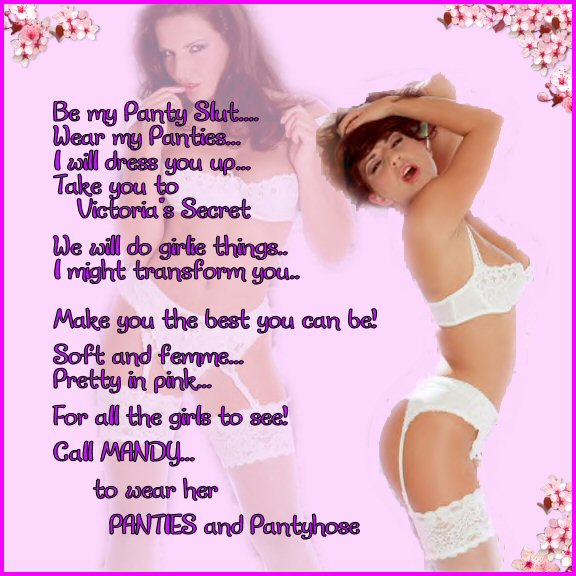 dirty bitch for me!
She is  my cum eating sissy, with big thick black cock in her mouth, who will
shoot a big load down her throat. He likes her panties. She slides his big cock
in my pussy, and licks me, balls hitting her in the face, suck off my juices.
Wants a big load making her shoot on a dildo and eat her cum off it. She
ate it all up!
our follow up session…..
Sissy mimi called again, because she is such a sissy slut. Licking up precum for me
in her red bra  and panties, and has on cock sucker red lipstick.   She has a dildo, and I have her
sucking it of course, and I plan on sending her to the adult book store to suck real cock. She tells me she is now totally shaved and pees
sitting down, because I make her.  She is  going to buy stockings and heels for next
session.
I instruct her to pull the dildo out and lick it clean, plays with clitty, and tells me that  it's too small to
fuck me she says, that is a JOKE. I don't fuck sissies!!!.   It is Only a 5″ clit, going to
make her cum on her face and eat it, just for suggesting that I might have sex with her.
I put my strap on on, put it in her pussy, telling her about the sissy clothes she would wear at the glory hole,
how she could never satisfy me, that goes without saying and how I was going to
use her. I love fucking her, had her smothered with my girlfriends pussy, as I
fucked her she was licking old cum out of my girlfriend's cum filled pussy, then
I put a big dick in her mouth, made her suck it, and get it hard.
Sent sissy mimi over to the panty drawer to pick out panties to wear for
me, as I get fucked by a REAL man. His balls were hitting mimi's cock sucker
face as I got pounded, she slid his big cock into me, then I made her get on her
back, put her legs up, fucked her again, and made her shoot all over her
face.  A bit of cuckold phone sex, mixed in with been a sissy cock sucking faggot whore!
xoxo's Mandy