I do enjoy my guided masturbation phone sex sessions so much.  I would say that even though I refer to what I do as guided masturbation, it is more domination then anything else.  I like to think that I give a superior session, and that I can make your cock (actually "MY" cock) cum harder, then anything you have experienced.  Once you turn your self over to me, and my control. 
My stroker in the UK, commonly referred to as Owned by Mistress Mandy, is proof of my skill.  As he has multiple orgasms, and recently, I had another, who I was able to make shoot twice in a row.  Kudos to Ms. Mandy's skill, I would say.  This has not cum easily (no pun intended)  Years of practice to achieve this new height.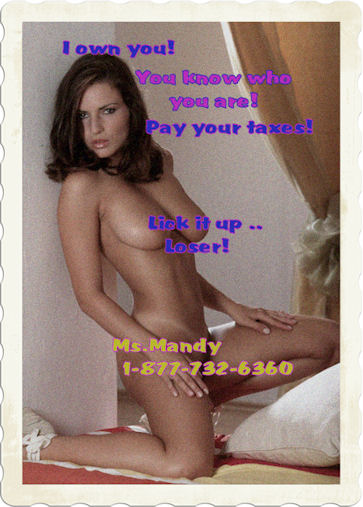 My uk stroker is addicted totally to my control.  He pays tax and I like to use him, I get to see my cock on webcam.  I enjoy when he turns on the cam for me, as I like to see "My cock" and use it, and I enjoy what I am able to achieve.  He is subject to my will and caprices.
An email from piggy loser…as I order him to send me a report as per our agreement.
Dear Mistress Mandy:
i begged to call Mistress Mandy on instant messenger.
i begged to pay a feeding tax and all taxes  Mistress Mandy would like to charge me for being a pathetic
loser.  Mistress Mandy ordered me to call her number.
(i don't
know why,  because i have been calling Mistress for several years now, but when I call her,  i'm still nervous like it
my very first call.  When i hear Mistress Mandy's voice her cock jumps to attention and the pre cum starts to flow.)
Mistress then told me to switch on my webcam so she could see her cock.  As soon as Mistress saw her
cock she ordered me to lick up all the pre cum.  As i was sucking the pre cum off my finger Mistress
Mandy laughed and said she was going to charge
me a pre cum licking tax and i replied, thank you
Mistress Mandy for charging me taxes for being your  piggy loser.  Mistress Mandy continued to mock me with
her laugh and said she was going to fuck me over and take more control of my life, bit by bit.
Mistress then gave me the instructions to stroke my clitty and make it feel really good. Whilst i was stroking,
Mistress would stop me and tell me to lick up the pre cum all the time laughing at me. Then Mistress ordered
me to slap her cock hard and every time i slapped Her cock, i had to repeat "i'm Mistress Mandy's little dicked
piggy loser".

Mistress Mandy ordered me to tie a black stocking
around her cock and balls and wrap a pair of black silky panties around my clitty.  i have got to tell you
this felt so good. Mistress Mandy ordered me to continue stroking and keep licking up the pre cum as
she laughed at my small dick. When i finally got to the edge Mistress Mandy told me to get the shot glass
ready.   Mistress Mandy gave the order to cum, but as i was about to release Mistress told me to remove my
hand so to ruin the pleasure of the orgasm. The
cum just dribbled out into the glass and whilst this
was going on Mistress Mandy laughed at me for being a pethetic cum eating slut and she made me beg to pay
her to eat it.
i begged her as the last drop of cum fell into the
glass and Mistress Mandy ordered me to stroke again, she explained that she wanted me to cum again, she
want me to eat a big load for her tonight.  After a short while i shot another load into the glass and
started to beg again for a feeding. Mistress Mandy gave me instructions that she wanted to see me consume
this big load of cum on cam but i wasn't allowed to swallow it.  Once i had the cum in my mouth Mistress
Mandy instructed me to swirl it around in my mouth and savor the flavor and all time Mistress Mandy
mocked me for being a cum eating whore and
she would to arrange for me to taste another man's cum.
Mistress Mandy said she was going to charge me a cum eating tax and ordered me to swallow the cum
and lick any remains from the glass and thank her for being allowed to eat my own cum.