Sissy phone sex with sissy brenna.  Sissy brenna is totally addicted to Mistress Mandy,   I own and control her.  I used her again. I sent her over to my married friends, and I did it long distance.  They set up a webcam, and used the fuck out of her sissy ass.  I ordered her to dress as a sissy maid.  For those of you who do not know, she is a sissy maid par excellence.  Fully dressed in a black pencil skirt, white lace collar, tip toeing in stiletto's and cleaning my good friends house. Brenna is quite the cross dresser, of course I had her in full makeup as well.  She spent the weekend there, doing her sissy chores and being used and humiliated by my wicked and evil mind.  I also own and control the couple. I dominate them, and they in turn dominate MY sissy brenna.   She had to clean their house and be at there command all weekend.
For some fun humiliation activities, I had them undress brenna as I watched on webcam.   First she was made to bend over a bench for a good hard sissy spanking, then she was ordered to suck the cock of the husband. It is a meaty 9 incher and brenna's eye's were wide when she saw the treat I had for her.  I had the wife continue to paddle her sissy ass as brenna sucked away.  Then I had the husband fuck his wife while brenna licked  his ass.  I was so amused that brenna was being used by them, they were so happy that I sent a submissive to them to have some fun with.  The wife had a cum filled pussy, I had her drip it into brenna's sissy lips, and she could not get enough.  Later that night, I had the hubby jerk off on brenna's face while she begged for more. The wife used a huge strap on and fucked her pussy as I watched the action.  I am going to call brenna the porn sissy queen from now on.
New assignment for brenna is to go shopping for a new dress on line with me, and then go out in it, and report back with a cock story!  Go gurl!
xoxo's Mistress Mandy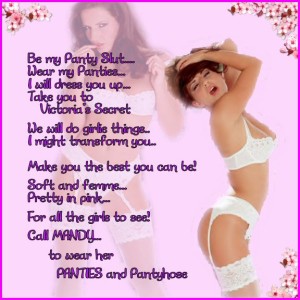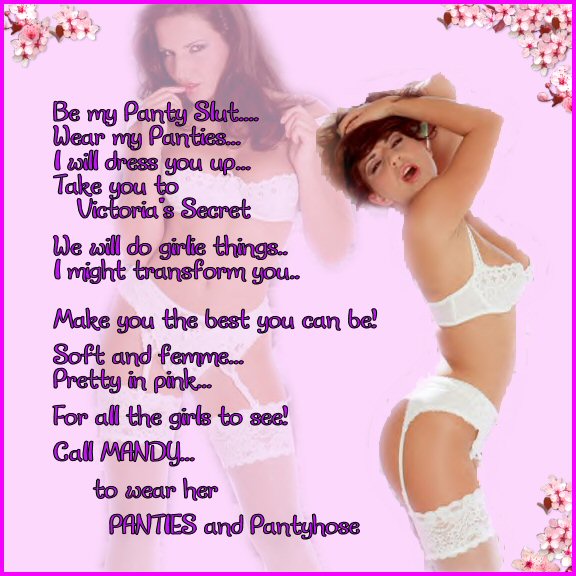 Voting for me makes me very happy, let me know you clicked the vote link and entered the code xoxo's Mistress Mandy