Sissy phone sex is something I truly enjoy.  I have sissy's on my personal website, and I am happy to announce a new beautiful sissy… christina, who will be gracing my blog and website.  She has been serving me and she tells me she likes how I make her feel.  I enjoy feminizing her and bringing her girly – ness out! Sissy christina does not like men, but loves to be dressed up like a girl. She loves my control and strap on and be forced to tell me how much she likes it. She likes me to tease and laugh at her. She likes feeling like a girl.  I own her pussy I own her and control her. Bought new panties for O/our session. Red satin panties – string bikini with full back. Loves how she feels last time, she had pink panties on. This time she wanted red and they feel sexier. Likes being girlie, and I make her feel sexy.
Sissy christina bought pink panties and lipstick in red and pink, and likes being a girl and having a pussy. Likes to rub her body as she is touching her girlie body and is powerless and that I own her. Put on pink lipstick to go with outfit. I own and control her. She is a new sissy in training. Likes to touch her pussy for me. Slides her fingers in, spreading her legs. Good gurl!She tells me how sexy she feels. Rubs her panties against her body. Likes to be helpless and controlled by my voice. I make her repeat after me that "she is my little sissy gurl", "my name is christina," soft and feminine, likes being a gurl and loves me to teach her to be sexy".  Teaching her to walk like a gurl across the room. Walk and sit like a gurl. Going to have her sit like a girl when she pees. Confesses she feels like a girl and fantasized about this, and loves having a girlie name, a pussy, and she feels good only when she is with me, she needs me to teach her to cum and be a good gurl.She asks me in her sweet feminine voice if I would put my strap on, on, and slide it in her pussy. She wants to be filled up and feel like a girl and take the entire thing. She begs me for it. She wants me inside her, her pussy is waiting for me. She wants her pussy to cum all over my strap on.  Feminizing her and making her weaker and more submissive.  Sissy training for her to be a gurl. She needs to obey me.  Fill her up with my strap on and make her feel like a girl.  She is to buy nail polish for O/our next session.
xoxo's Mistress Mandy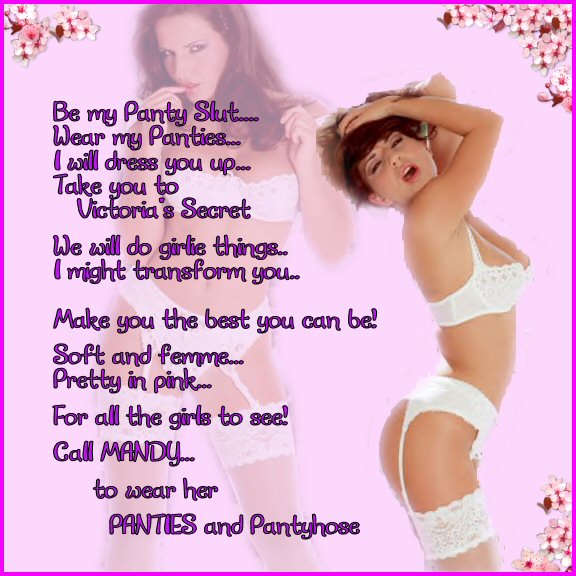 And check out my sites, guided masturbation phone sex 
site, has new humiliation section, that if you would like to be written about on it, contact me, and my
cuckold
wifes site, you know how I love this!