Hey there faggot not only do I do guided masturbation phone sex I do many fetishes and fantasies.  I stay out in the domination fetish area.  I like cock and ball torture, femdom, feminization, humiliation and many others.   Are you ready for some strap on phone sex that will make you my bitch?  Don't be a shy little sissy.  I can start out gently before I really go to town on your sweet lil bitch hole.  Do you wanna be my little bitch? Sure ya do! First I will get you down on your knees in front of my strap on. Of course I am so fucking hot you can't help but get a rock hard cock for me. (And a weak as jelly everything else.) Sure you feel a little confused, kneeling before me all turned on with my strap on in your face.  Here's how it's gonna go, sissy.  First I am gonna make you suck this big (bigger than yours) black strap on cock. You're gonna wanna suck this really good.
Here's two reasons: first you will want it as lubed up as possible before I ram in your tight ass.
Secondly this is your chance to get emotionally prepared for me to fuck you.
If you are scared you might just try to draw out the blow job for as long as you can. That's okay. While you are down there sucking I am gonna start to fuck your ears with my words while I fuck your dirty mouth with my strap on.  Strap on phone sex with me is like getting busted, it can go easy or it can go down hard. Lol! Your bung-hole will be busted. I know what you need sissy!  I will help you guide it there!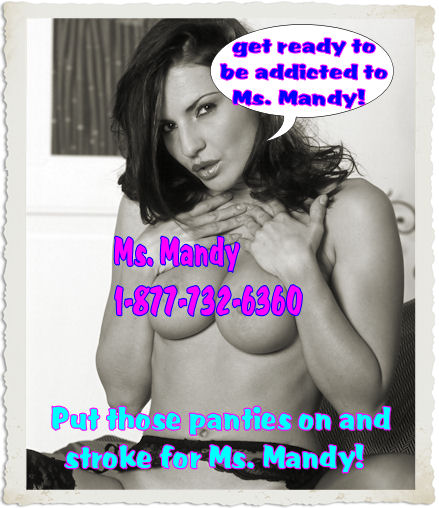 Show your support and Please Vote for me hereVOTE FOR MANDY ! Let me know if you do…