Sissy Michelle is my cum slut,
sissy maid
,  I ordered her to dress up in her
sissy maid outfit, pink crotch less panties, Mary Janes, lipstick, I have her
dress up for me, and be a sissy, I own and control her, going to
make her play with her tiny useless little sissy dick, I will spank her little clit, as it can't satisfy anyone… she is going to order
sissy clothes put them on so I can laugh at her.  I make her sing and dance in sissy clothes,
in front of the window.  Sending her to a hotel, to wear this outfit in her
room, dance around and sing in front of the window, then order room service. She will then suck off the bus boy, and I will watch her as I eat her breakfast.  I
told her to order breakfast sit so that I can sit in the chair and watch her be a whore.  Giving her hormones, she will have real tits now, and oh yes,
told her to bring her girlie bathing suit, to go swim in the hotel swimming
pool.  Quite a day I have planned for her.  Sissy Michelle has a little tiny dick, and loves
small penis humiliation
, and any humiliation for that matter.I need a pair of panties in a photo of her to add to my sissy WALL OF SHAME
click here to see it  —————>  
Panty phone sex
Check out many sissy stories and sessions at ————->  
sissy phone sex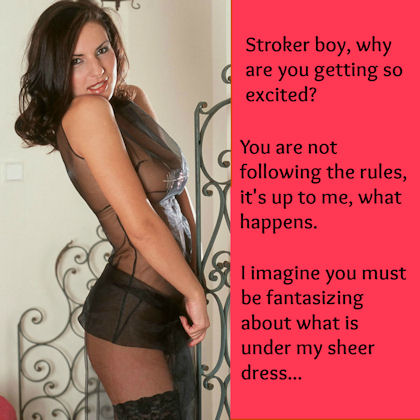 Show your support and Please Vote for me here VOTE FOR MANDY !