Just did a
guided masturbation phone sex
session with rim job who can not get enough humiliation.
She likes to wear panties and bras, go to a real movie theater, suck cock, dress like a girl,
and be exposed for the cock sucker she is.  She called to tell me that her friend
Claire had her go outside to have some fun,
panties and a bra outside
at the mall this time, out in back in the cold. Lights were out, power failure so she
thought she could humiliate him at a great time like that. Rim job walked around
the car a few times.  So she ended up using a dildo, no live cock.
How are we going to get rim job live cock.  Claire took rj to the movies,
and they left and went to McDonald's, and there were 2 guys there to come off
and use her slut rim job to take care of them. One wanted a blow job, and got in
back seat and he got his bj from rim job.
Rim job is wearing red today!  Red thong panties, they make rim job feel
horny. Says they are tight. Strap going up her crack. Put on red lipstick rim
job!  Cock sucker red. Have her write cock sucker on thigh in red lipstick.
Going to use rim job and make her weak and submissive more so then before.
Writing Mandy's Clit on her useless clit, slut on forehead.  More lipstick and a
dildo, and suck it for me.  Maybe rim job can look up lisa again.
I am going to send rim job to movies, wear bra and panties and see if she
can get some action at the movies,  Suck that cock rim job, while I humiliate
and degrade her. Deep throating cock, and will wear black bra and panties,
rhinestones, red lipstick, and a wig. Looking for cock, I want report!  Degrade
her and humiliate her.  She will eat her cum for me today.  She can cum on the
dildo and suck it off. Get a dildo with a reservoir to fill up and shoot it in
her mouth.
***
Here are a few of rim jobs reports at the theater to me… enjoy
xoxo's Mistress MandyHello Mistress just checking in to see how
you are doing.  I did buy the tampons and like you told me I wore  them as
earrings and I did get laugh at.   Jeff was there and after the movie started,
he came in and told me to follow him and we went around the corner and I got on my
knees and sucked his cock and he shot his load real quick and then he went back
to work.Two guys who saw me wearing the tampons were watching me suck Jeff
and after he left they wanted the same.Their exact words were, okay faggot "suck our
cocks".  So, I gave both of them blow jobs and they both shot their loads all over
my face and in my mouth and they told me that I was a good cock sucker.  And they told me to be
ready if they wanted more. So I watched most of the movie, and when one of them walked
towards me and signaled me to follow him, we went back to the same spot and he
told me to drop my pants and bend over. When  I dropped my pants he saw I  was
wearing red panties and he laughed at me and called me a sissy faggot, and then he
shoved his cock into my pussy ass after he was done with me his buddy took his
place and after he was done fucking me, they told me take my shirt off and I had
on the red bra. They  told me that their girlfriends would love to see me
wearing the bra and panties.  So they told me to follow them back to their seats,
all I was  wearing only the bra and panties when the girls saw me they could not
stop laughing  at me.One girl put lipstick on me and then called me a slut and
thanked me for servicing their bf since they were not interest in having  sex. They asked me why I was dressed like I was and I told them how I love to
humiliated and degraded and told them about you and your blog. So I sat with
them telling them about what you told me to do and they told me next time they
see me they would all use me. The girl told me next time to wear pink she said
it sissy true color.  Will call you soon, and if I hook up with them again I
will tell you all about.  Your sissy slut Rim Job Maureen
**
Last night I went to  the  movies and I
was wearing the black bra and panties along with garter belt and nylons.  Jeff
was working and he asked me if I was his slut tonight?  I said yes, and he
laughed and told me he would be in shortly. And true to his word, he came in and tapped me
on the shoulder and told me to follow him. We  went to the side out of site and
before I knew it I was on my knees sucking him off.  He took a few minutes
before he shot his load in my mouth and he told me show him his cum before I
swallowed.  He laughed and told me what a cum slut I was.  I went back to my seat
and unbuttoned my shirt and left it wide open so anyone who walked by would see my
bra. Nothing happened until the movie ended and I was ready to leave, that's when Jeff
came in and told me to stay and to strip.  I did as he requested and in a
few minutes Jeff  came in and told me bend over and spread my ass and he fucked my
pussy, calling me all types of names.  He finally came in my  pussy ass when he
pulled out me and he told me to turn around and clean his cock so I lick it clean. All the
time I had a 2 people watching me, one girl and one guy they were friends of Jeff
and the guy came over and shoved his big cock in my mouth and I sucked him until he
filled my mouth with his cum and I did swallow. The girl asked  me if I like
popcorn up my ass and said not really she said too bad, and proceeded  to shove a
couple of handful in my ass, all the time laughing at me and calling a loser and
pathetic slut. The girl asked me if I had lipstick and I handed it to her and she
coated my lips with a heavy amount. Then she told me that I like to have names written all over my body.  So she wrote cum slut on forehead and cock sucker on
the side of my mouth. After she was done she gave me a spanking calling me a
little gurly boy.  Then she told me to live up to my nick name and she bent over
and I gave her ass a good licking and then she told me lay down and she sat on
my face and I was tongue fucking her pussy until she came all over my face. The
girl told me to put my panties back on and then she told both guys to jerk off
on my face and in my mouth. I was on my knees again as they were jerking off,
she held my head telling me what a loser I was, and when I leave the theater I
will have cum all over my face. They all walked out with me and I was allowed to
put my  shirt and pants back on once  I was outside the side door.  I can't WAIT
UNTIL WE TALK AND YOU GIVE ME ANOTHER HUMILIATING ASSIGNMENT YOUR SLAVE RIM JOB
MAUREEN
I am just a phone call away.  Ms. Mandy for feminization phone sex at 1-877-732-6360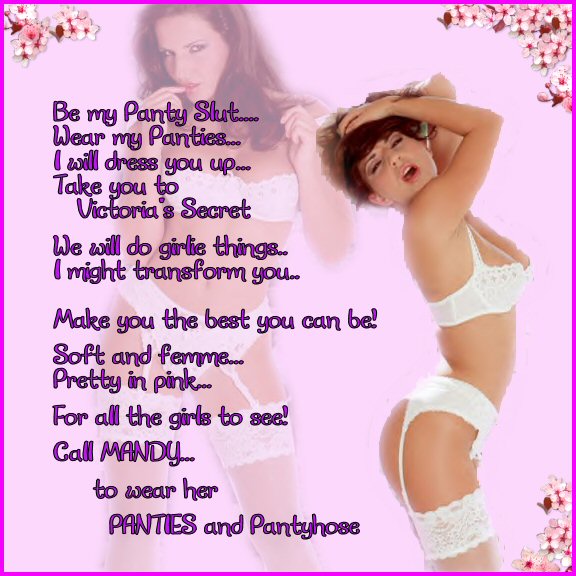 Show your support and Please Vote for me here VOTE FOR MANDY !