As usual rim job maureen is up to her old tricks. She sent me a very amusing email about her sissy phone sex and cross dressing antics…
Hello mistress I
tried calling you earlier but you were not home. I did something last night
that you would be proud of. I went to a adult bookstore and they did have
booths in the back. I was wearing a pink bra and panties and the salesgirl that
was there before, remembered me. She rubbed my back and felt the bra straps and ask
me if I was wearing panties, and I told her yes and then she wanted to know what
color. She laughed and took me into the back and there were booths.  She asked me to
show her my bra – so I lifted up my shirt and showed her. I was
then asked if I was going to watch a movie and if I was here to service her
customers.
After saying yes she took me into a booth that had holes on both
sides and then she told me take my clothes off and put them on the shelf. So I
was only wearing my bra and panties before she left.  I was told to get on my
knees and be ready to do, whatever I was told to. In a few minutes a nice 9″ cock
came threw the hole and the man said suck it sissy faggot, and I did until he
shot his load in my mouth and then he told me swallow and I did.
Pretty soon I
had cocks coming in both holes so I was sucking and jerking off. Then  one of
the guys told me to place my ass against the hole and to spread my cheeks he
shove his cock into my pussy ass. and I was being fucked hard, then another cock
came and I sucked him off with him cumming all over my face. The guy fucking me, came in my ass and then he told me to lick him clean. This went on for a long
time, I don't remember how many I sucked or fucked me but it was several. I  was
covered with cum – both my ass and stomach were full of cum.
Finally the girl
came back and opened the door and laughed her ass at me saying what a slut I was for
being covered in cum and having it drip out of my ass. She asked me if it was all
right if she wrote something on my face and forehead.   I nodded and she took her
lip stick out and wrote cum slut on forehead and then she drew a cock on the
side of my face and sucker on the other side. I was handed my bra and panties
to put back on, then she walked me out to the exit before she gave me my shirt and
panties.  She did give me a couple of gifts, one was a butt plug which she put in
my ass and then we walked out to my car and she wanted me to jerk off in my car so
she stood outside my car and I pulled down my pants, and pulled the panties to the
side and jerked off while she was calling me names and telling me what a loser i
was.
When I was read to cum she held out her hand and caught my cum and then I
was told to lick her hands clean which I did. She gave me another gift
– a collar and leash and she put it on me and told me come back next week wearing
the collar and leash and the butt plug and she would lead me around the shop and
then into the back room and she wants me to wear purple bra and panties and
nylons and to have a dark red lipstick on.  And to have it ready for her to write
the same things that she did when I left. I will keep you informed if I can go
back next week. And I have to thank you for all of this. Calling you was the
best thing I ever did. You have brought out the sissy in me and I love it.
Will try calling you this weekend. Rim Job Maureen
Rim jobs past stores are posted on the humiliation phone sex page of my site…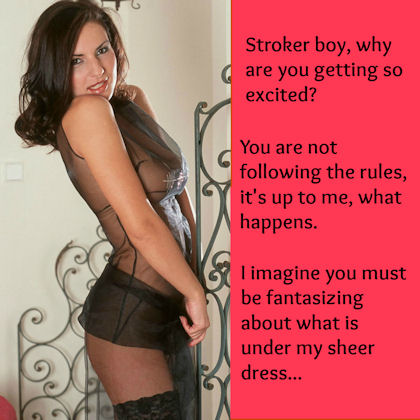 Show your support and Please Vote for my totally free blog
VOTE FOR MANDY