Cum slut is my returning slave not for guided masturbation phone sex but humiliation, cbt, cum eating training, and a contract.  I used to train this cum eating slut, and he is back for more.  I like to see him on web cam.  He is a dirty whore.  Will be buying toys, a dildo for ass training, clothespins, rubber band, ice, a wooden spoon.  He is addicted to Ms. Mandy, I will make him addicted to eating cum also.  He requires cum eating instructions after I torture his balls.
I watch his dick on cam, he likes to masturbate for Ms. Mandy. He requires a contract, and will call a certain amount of calls, has to do assignments, and obey me. He is "MY" slut. A fucking cum eating whore.  I like to see him lick up his creamy load.
**
I now own and control cum slut slave boy, today I received this hot instant message..
"I want to be own and controlled trained to be a cum eat slave. every call my balls are abused and teased until i cant take anymore. then you make me shoot my cum directly in my mouth with my legs over my head and i must swallow all and show you everything"
You know what I say… be careful what you wish for.  I had cum slut on cam, legs over head, mouth open with a count down… you know what happened next…..

xoxo's Ms. Mandy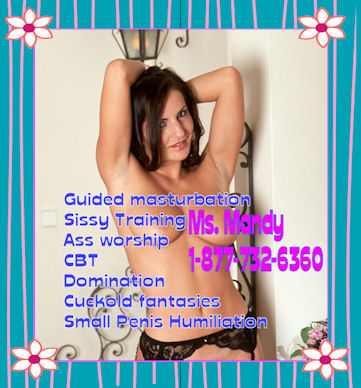 Show your support and Please Vote for me here

VOTE FOR MANDY
!